FIFA 22 Teaser Trailer Coming Soon This Week
FIFA 22
Date: Jul/07/21 11:10:34
Views: 1092
In this article, we discuss about the NEW FIFA 22 ANNOUNCEMENT teaser trailer coming soon this week!
The good news this week is that a FIFA 22 teaser trailer as well as a pre-order date would finally be announced by EA very soon.
The date that this trailer drops is rumoured to be on the 11th of July - Which is indeed very close. The date is subject to change but before EA play live 2021, there would definitely be a teaser of FIFA 22 released in these upcoming weeks.
Here is the leaked schedule of FIFA 22 and when we should expect these import events. We would be able to pre-order the game this week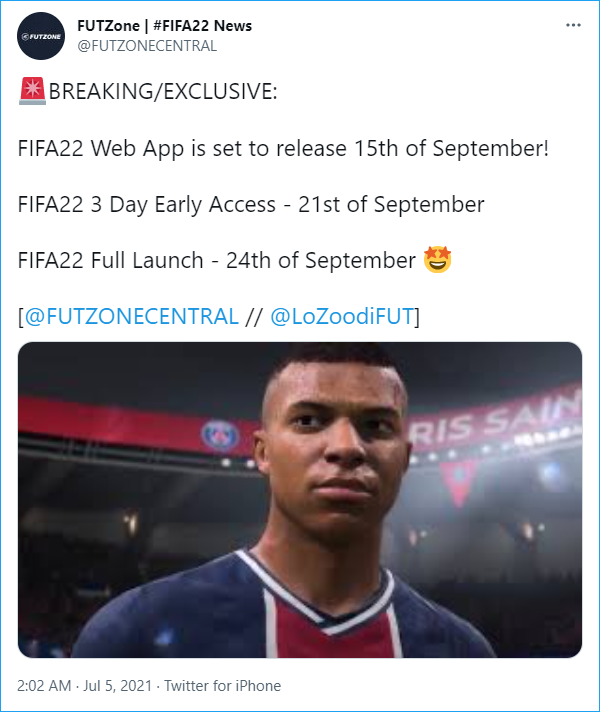 https://twitter.com/FUTZONECENTRAL/status/1411747340004757504
Much gameplay of FIFA 22 would be released to the public on the 22nd of July as well. Let's hope that FIFA can elevate to the next level.
What new features are you hoping to see get added into FIFA 22? Comment down below:
Hopefully, they add all the teased content from the FIFA 21 next-gen opening cinematics otherwise things won't look too good.
It's rumored that FIFA 22 would take the cinematic route relating to gameplay so this could possibly be a good change.
FIFA 22 advertisements were seen at the PSG's training ground. This mean's the announcement would take place soon - sunday.

If you want to make a good performance in the game, buy FIFA 22 coins at URFUT.com! Know more information about FIFA 22, keep following!