FIFA 22 Online Career Mode - Everything You Need to Know
FIFA 22
Date: Jun/05/21 14:17:07
Views: 1446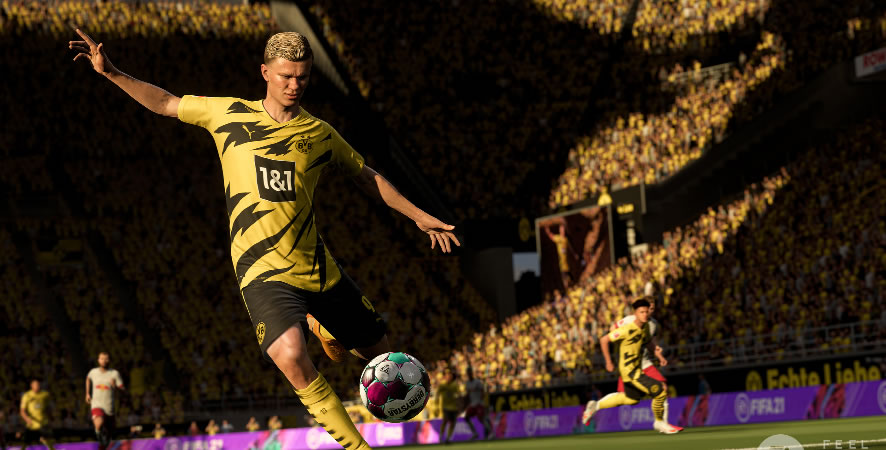 Today URFUT has an important article about the latest amazing leaks of FIFA 22 new feature - Online Career Mode! We have too many things to talk about, let's go into the details!
Online Career Mode
Has the time come for a huge upgrade on FIFA's Career Mode? Has the time come for something different, but not in the Ultimate Team? That's what is leaked last night. Online Career Mode finally a reality. Online Career Mode is on its way to FIFA video games.
EA posted a job listing for the role of an online software engineer in Vancouver, British Columbia, Canada.
The job description states that: "As an online software engineer, you will help build our networked play development team - whether that be in our online career mode, ultimate team, or core online systems and protocols." "We are looking for engineers who enjoy prototyping and planning, adding amazing new features to an existing and beloved game, and improving existing code."
That means EA Sports is working to add a new feature to FIFA 22 career mode, it's the "online career mode". That's impressive.
The leak of the new mode "online career mode", has sparked a frenzy of conjecture among fans about how will it looks. What are the new improvements? But we will wait until the event of EA Play Live, which is being held on July 22, 2021, to know more details about FIFA 22 and its new nodes and features.
If you look at the job description again: EA has changed it and removed the part of the Online Career Mode. They wanted to keep the information, but it's already leaked worldwide. Will this new "Online Career Mode" be a standalone mode or part of the existing Career Mode?... It's not confirmed yet. Will it depend on the current manager career mode or the player career mode?... It's also not confirmed yet.
We will know all of that in the next few days with the event of EA Play Live, which will be held on July 22, 2021. As I explained above. Will this new "Online Career Mode" be better than the "FIFA Ultimate Team" mode?... Let's compare the two modes.
Career Mode vs Ultimate Team
We used to have the Career Mode as an offline mode in all of the old FIFA games, with few changes and improvements every year. For that, Career Mode is not the most playable mode in FIFA video games, not the same as the ultimate team. But the time has come for something bug!
I can admit that, when the Career mode comes online, it could outperform the Ultmate team mode. Allow me to tell you, why the online career mode would be better than FIFA Ultimate Team Mode for most fans. Ultimate Team Mode is depending heavily on In-game purchases, which is not acceptable for many players who wanna play and building without paying money besides the game price. Not only that but they want to play and depend on their mentalities and skills. So the Online Career Mode could be a great alterantive to play online and depending only on your vision and skills, without the need to pay again. Even the competition will be fairer and will depend on the player's mentalities and skills more than the ability to purchase. that will make the Online Career Mode better.
The most important question is "will the new Online Career Mode really come in FIFA 22 or will it postponed to FIFA 23?"
FIFA 22 or FIFA 23
I think we have a chance to have it in FIFA 22, but it's also not easy. Everything is taking time in EA sports. Especially it's a big mode and too many players worldwide will play it.
Let's be optimistic guys. I'm so believing in FIFA 22 at all. I told you that many times in my articles. It's clear for me: EA will try to show the NEXT-GEN in the best way ever in FIFA 22. They will face big competition from Konami's new NEXT-GEN game "Efootball PES 2022". So EA Sports will do its best to outperform as usual. Especially in the year of the NEXT-GEN.
So as I told you above: "We will know everything about FIFA 22 new modes in the next FEW days with the event of EA play live, which will be held on July 22, 2021".
Another hint is supporting the idea of adding the Online Career Mode directly in FIFA 22 without waiting for FIFA 23: It's the adding of CO-OP Career Mode to the F1 2021 game, which is scheduled to be released on 16 July 2021 buy EASports. For the first time, in F1 Career Mode, it is now possible for two players to play Career Mode together either as teammates or rivals.
This new CO-OP Career Mode, allowing friends to work together and race for the same team. They can race against each other for different teams in the driver's championship. Both players will be able to undertake R&D to develop their cars, compete for new contracts with other teams, and gain accolades adding a new level of competition to the single-player mode. It's the same idea as FIFA's Online Career Mode. IT's also giving me the feeling to have the new Online Career Mode on Manager and [layer modes. I really hope so much...
If you don't know: in February 2021, electronic arts has completed its $ 1.2 billion takeover of Formula 1 Video game developer codemasters, making the beginning of an exciting new ERA for racing games.
Will the new cinematic cutscenes appera in FIFA 22 "Online Career Mode" or we will have a new "Story Mode"?..Or will EA make the offline Career Mode, the same as "THe Journey"? Allow me to discuss more about that.
Cinematic Cutscenes
If you remember, we have talked about the return of the story mode in FIFA 22 in a previous article. So we are talking now about two new modes. That's really nice.
Imagine that: we have a new Online Career Mode and another new story Mode in FIFA 22. And all of that with the New-Gen techniques. That will make FIFA 22, the best FIFA game ever!
Don't forget that: I talked about the addition of 16 new "non-popular" actors to the game database to be used in the cinematic cutscenes of the story mode or career mode that if EA wants to make the career mode the same as "The Journey".
So everything is leading us to new big modes and features in FIFA 22. What about playing as a real manager in the game? That's the last thing I want to talk about in this article.
Play As A Real Manager
The last thing I really want to talk about in the new "Online Career Mode", is the idea of playing as a real manager.
I know that it's not confirmed yet to play as a real manager in FIFA 22 Career Mode, but I really dream to have it in the game. Imagine that: If you play as Jose Mourinho or Jurgen Klopp and your friend plays as PEP Guardiola or Carlo Ancelotti. And you play together in one Career Mode. That's impressive. If they really added that feature to the game. I can admit that will make the game the best of the best. As I told you many times. "I'm so optimistic for FIFA 22".
That's everything I know about the new FEA feature - FIFA 22 Online Career Mode! I tried to show you all the confirmed, leaked, hinted and expected information in the video. So all that we have to do is just waiting to know more details about the new FIFA's Online Career Mode as soon as possible. I will try to cover all of the new information about that in the next articles to make you always information regarding FIFA 22 Online Career Mode.