FIFA 22 - Unlimited EA Access Hours Glitch (PlayStation & Xbox)
FIFA 22
Date: Sep/23/21 09:49:12
Views: 2368
FIFA 22 will be available later today through EA Access at 6 PM UK, where users can test out the game for 10 hours. Last year there was an unlimited glitch for EA Access which was only working for Xbox and not PlayStation. This same glitch worked for Madden 22 this year, so that's a good sign this glitch would be working for FIFA 22.
If this glitch gets patched or more methods are found, I'll make a follow-up article on gaining unlimited access. I'll be using FIFA 21 in this article. Just follow the exact steps and implement them on the FIFA 22 EA Access trial.
Here are the steps to get unlimited access. Note: This is only for Xbox users and not PlayStation.
1) Buy EA Play on your second account and add your main account as your friend.
2) Launch the game with your second account
3) Log in to FIFA Ultimate Team, go to a friendly game and invite your main account (Even if the 10 hours is done)
Once you receive the invite notification, press the home bottom and Switch to your main account.
4) Log into your main account and accept the invite that was sent from your second account.
5) You will now arrive at this screen. Click "Yes" then "Okay" and immediately don't connect to the servers.
The glitch is now done and will have extra hours to play the game. You can also get a refund from EA Play.
Here are all the steps regarding the EA Access glitch. Hopefully, there would be a glitch for PlayStation too.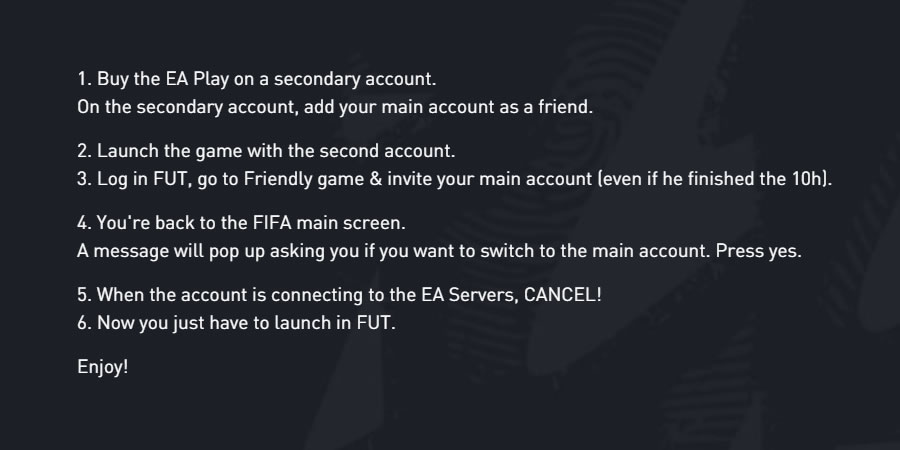 If you get an EA access error, all you have to do is:
1) Go to the Microsoft Store on your PC or Phone
2) Go to FIFA 22
3) Click download trial and link it to your Xbox
Your FIFA 22 should work now.
The only downside to this glitch is buying another EA Access but it's only $1 for an extra 10 hours so enjoy.